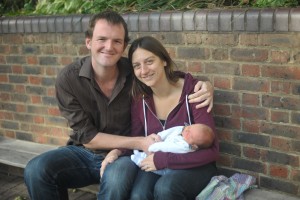 Hello and welcome to our About Us page. Thank you for heading over to find out a little bit more about who we are!
We are a married couple who are now a family of 3 with the recent addition of our delightful son Jack Tapiwa born in October 2014.
At 26 and 29 years of age, we are both Primary School trained and qualified teachers who met at the University of Greenwich, London. We married in 2010 and both spent a few years teaching in South East London with Sophie specialising in Early Years teaching and Greg in upper primary.
After a year of marriage, Greg followed Sophie to Zimbabwe one August to support the running of a local kids conference for the church One Way Ministries, headed by Pastor Langton Gatsi. This was Greg's first time in Africa whereas Sophie was returning for the 4th time. Greg was blown away by the nation, as Sophie had been years before.
During this trip as a married couple, Pastor Gatsi and his wife revived an old conversation had with Sophie in 2009 regarding the churches desire to offer education to the children in its local community by opening a church Pre School. We made the decision to return to the UK without making a decision, in order to spend time praying, talking and seeking advice from friends, family, church leadership and God. This was in August 2011. In January 2012, with hearts full of excitement, we contacted the church in Zimbabwe to inform them we would be delighted to come and support them in this venture.
So in August 2012 – after months of planning, flights, visa stress, saving, resigning and saying goodbyes…we arrived in Mabelreign, Zimbabwe!
We are now delighted to have been here for 3 years and are delighted to give God the Glory for the incredible strides we have made in creating a sustainable school for the church.
In January 2013 One Way Pre School opened with 19 children. Now in July 2015 we are One Way School with 4 classes from Nursery (ECD A) to Grade 2 and have over 90 children registered. We are currently in the process of building two more classrooms to extend the school to Grade 4 in January 2016. We currently employ 10 staff at the school with most receiving qualifications (certificates and diplomas) from the local training college whilst working at the school.
We continue to be amazed every day at the benefits reaped by trusting in the Lord and knowing that through him we have strength. We seek every day to pray and find wisdom from the Lord to discern the next steps in our adventure with Him as a project and as a family. We are excited to see where He will lead us!
Personally, Greg is starting to bald just like his father, Sophie is still a Princess with a view of the world being covered in fairy dust and JT (Jack Tapiwa) resolutely refuses to do anything that involves moving further than a few inches and crawling is definitely too much effort! But he spends each and every day with a permanent smile and a giggle that brings tears to the eye with its hilarity!
We thank you for taking the time to visit our website!
Love Greg, Sophie and JT x